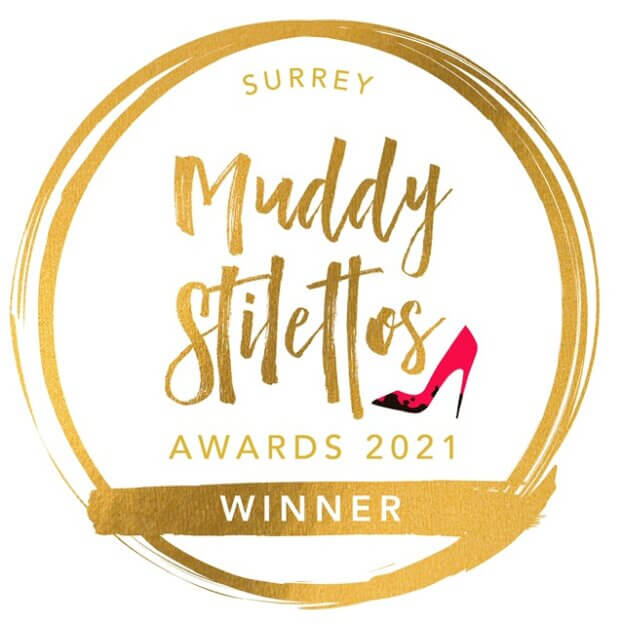 WINNER – BEST FITNESS INSTRUCTOR IN SURREY
We are thrilled to have been voted as the best fitness instructor in Surrey in the Muddy Stilettos Awards 2021.  We would firstly like to say thank you so very much to you, if you cast a vote for us in either the nominations or the final voting round.  This award really means the world to us as we work so hard as a small, family-run business, and to come out on top of the big bootcamps or well established studios is a wonderful surprise. 
Our aim is to provide high quality coaching and training solutions to busy professional women and mothers both in person through Lucinda's personal training offering and by training with Lucinda online through our on-demand fitness platform and Thrive in 5 home-based strength and fitness workout programs.
We don't leave the men out too –  our trainer Darren offers personal training for men at our private gym studio in Bramley, just outside Guildford. 
We believe in realistic fitness solutions that you can fit in around busy family life and work commitments.  Nothing overly daunting, oppressive or restrictive because in our opinion this just wouldn't be conducive to looking after your health and wellbeing in a holistic way.   We believe that fitness is synonymous with health, and that fitness training is just one of tools within our tool box that we should be utilising as part of a duty of care to ourselves.
It means the world to us that our messaging and offering resonates with the public so much that your votes won us the award of best fitness trainer in Surrey.
We have been serving the population in and around Guildford with personal training and small group training since 2016 and it is wonderful to have now grown a global community – aided by our Instagram platform @fitnessrunsinthefamily – and the members of Her Strength On-Demand.  Our on-demand community ranges from local ladies getting their home workouts done here in Bramley, Shalford and Guildford – to London and all across the UK.  We have members in Scotland, Ireland, USA, Canada, Australia and South Africa.  And we are hugely appreciative of your support and your combined global votes which won us the award of The Best Fitness Instructor in Surrey.
The Muddy Stilettos awards aim to celebrate the best offerings in the local area.  They are dubbed the 'insiders guide to the countryside" and put cherry-picked local businesses which are not London-based firmly in the spotlight.
This year's Muddy Stilettos Awards aimed to celebrate the creativity, uniqueness and sheer stick-it-out bravery of our best local businesses. There was an astonishing 75,000 businesses nominated and 750,000 votes cast this year. Bonkers!
The Muddy Awards have always been run on the basis of being free for all businesses to take part in from beginning to end – no new or small businesses are excluded on the basis of cost. And eight years on from the first Awards, it's still as exciting as ever that these brilliant Awards shine a light on fantastic businesses that often go undiscovered and unrecognised.
We are hugely grateful to have been nominated in the first instance but the fact that our customers, clients, members, social media followers and or course friends and family too rallied round and supported us by casting their votes means the world.
To celebrate the win we offered a 3 week structured & fully coached programme of home-based strengthening workouts in a series called "Start Summer Strong" on our instagram @fitnessrunsinthefamily which saw over 250 women taking part.
We will continue to celebrate all year by to offering as much fitness training as possible to both our clients, our on-demand fitness members and also free fitness solutions over on our instagram page @fitnessrunsinthefamily … Hopefully you will be able to benefit from one of our offerings as a thank you for your votes and support.