Spring Term 2024 Booking will be open soon.  Book early for the early bird offer price, and to secure your place.
Spring term dates will be: Jan 14th, 21st, 28th, Feb 4th, 11th, 25th, Mar 3rd, 10th, 17th, 24th (no session Feb 18th for half term).
Spring term classes will be INDOORS in the St Catherine's Sports Hall on Sunday mornings 8.30-9.30am. Except the first week (Jan 14th) which will be a New Year's walk & strength circuit around Chinthurst Hill.
Join the lovely ladies at the hugely popular STRENGTH CAMP class at St. Catherine's School, Bramley.  Bookings still open for remainder of the Autumn term at a pro-rated rate: BOOK YOUR PLACE HERE at the pro-rated price for the remaining 5wks of term.
Autumn term 2023 class run on Sundays from 9am-10am.
The class is located at the St. Catherine's Senior School site (GU5 0DF).  Please follow the drive round the back of the school and park in the gravel car park.  The class takes place on the netball/tennis courts next to the swimming pool.  Please arrive for a prompt 9am start.
*Please bring your own exercise mat, water bottle & suitable layers for the weather*
Scroll down for more info about the class including dates and prices.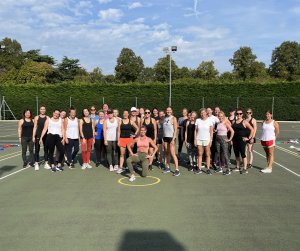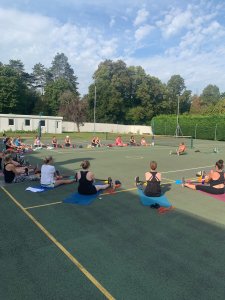 What is a "Strength Camp":
Similar to a "bootcamp" but with a focus on building strength and therefore lean muscle tissue.
This will be exercise that supports you, strengthens you and builds you up, whereas traditional bootcamp classes seek to beast you and break you!  We need less high impact cardio in our lives and more low impact, appropriately challenging strength exercise.
Her Strength's Strength Camp will provide expert coaching to help you build stronger muscles, denser bones, well supported joints, move more functionally, become more mobile and 'tone up' / 'sculpt' the body.  The strength training will also support any other sport or running you may do with all-important strength!
There's less beasting yourself with burpees,  shuttle runs & star jumps and more low-impact strength exercises like squats, lunges, hinges, pushes, pulls, raises, presses and core work.
This is what you need more of.   This is what works.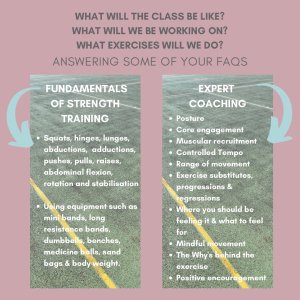 Dates: (the Autumn Term 2023 will run for 14 weeks – a chance to COMMIT to YOU)  Don't worry if you've missed the start of term, you can book for the remainder of the term at a pro-rated rate.
We book kids into classes for the term – so they benefit from doing the activity regularly and routinely.  To up-skill, to build strength & stamina and to progress week-by-week.  You absolutely deserve to commit to yourself in the same way to reap all the benefits.
September – 10th, 17th, 24th
October – 1st, 8th, 15th, 22nd (no session 29th Oct due to half term)
November – 5th, 12th, 19th, 26
December – 3rd, 10th, 17th
Prices for the Autumn Term 2023:
Pro-rated price of £75 (this is £15 per class for the 5 weeks left of the term)
A 20% discount is available for a second person booking from the same household, please email info@herstrength.co.uk to arrange.

How to Pay to Book your place in the Class:
Booking is STILL OPEN for the rest of the term at a pro-rated price. Please book online below.
You can join after term has started for the remaining weeks of the term, book at the button below for the pro-rated price for the remaining 5 weeks of term.
Once payment has been made, your place in the class is secure.
I look forward to seeing you there, and helping you build that strength!
Any questions, feel free to email me: info@herstrength.co.uk