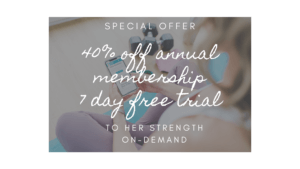 The on-demand membership includes 230+ workouts and 8 structured workout programs designed for busy women to benefit from STRENGTHENING, EMPOWERING, EFFECTIVE & EXPERTLY COACHED home workouts.
With time, space and cost efficient training solutions using only minimal equipment, Her Strength On-Demand will help you THRIVE.
As your online trainer I will champion you to become stronger, fitter and more mobile; physically more capable & functional and mentally more confident & resilient, driven by the notion of 'STRONG IN BODY STRONG IN MIND'.
Join today for FREE and let us help you step into your strength, empower you into getting active and boost your fitness and energy levels.
It would be wonderful to welcome you into the membership.