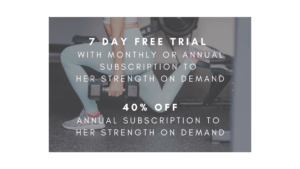 The on-demand membership gives you unlimited access to 250+ workouts and 8 structured workout programs.
Her Strength workouts help you get your ESSENTIAL STRENGTH TRAINING done from home, with expert coaching, guidance, demonstrations and positive encouragement throughout.
I have designed the workouts for busy women to benefit from STRENGTHENING, EMPOWERING, EFFECTIVE & EXPERTLY COACHED workouts which are easy to follow, time, space and cost efficient and use only minimal equipment.
If you can get yourself to your exercise mat and click play on the workout – I am right there welcoming you in to the workout with a smile, easing you in to the workout with a warm up and taking you through each exercise step by step.
As your online trainer I will champion you to become stronger, fitter and more mobile; physically more capable & functional and mentally more confident & resilient, driven by the notion of 'STRONG IN BODY STRONG IN MIND'.
The workouts focus on safe and effective technique, building strength, endurance, fitness, improving posture and core strength as well as mobility and function within the body.
I do not believe in preying on women's insecurities, so you will not find me mentioning diets, fat loss, weight loss or torching calories etc within the Her Strength workouts.
My ethos is all about building you up – stronger, fitter, more physically capable and more confident, and these workouts will do exactly this for you!
Join today FREE for 7 days and let me help you step into your strength, empower you into getting active and boost your fitness and energy levels.
Have a read below of what some of our members have to say – get started today and you could be feeling like this too!
It would be wonderful to welcome you into the membership.
Lucinda x