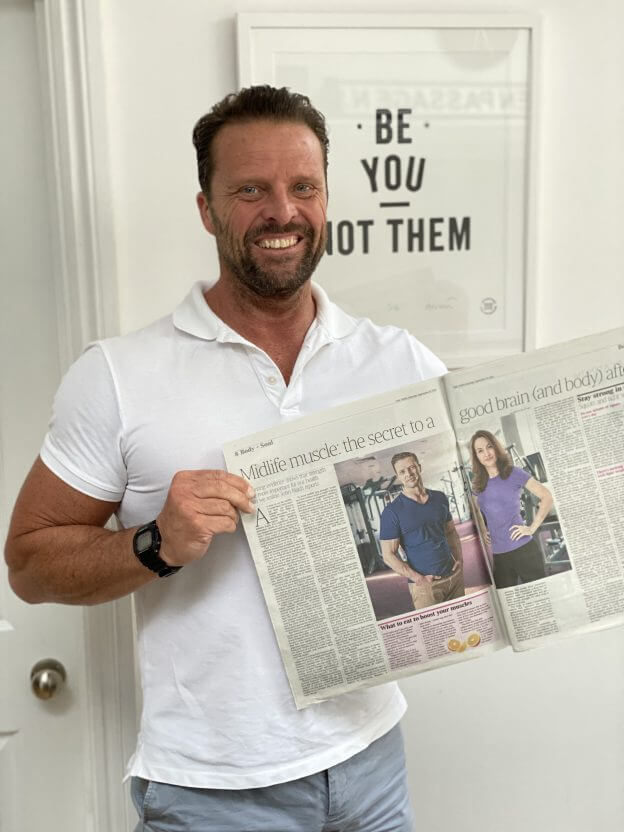 Featured in The Times – Muscle Away that Brain Decay!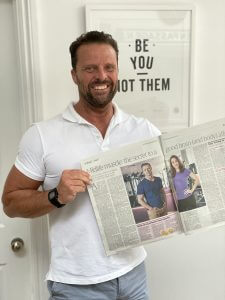 The Times have featured one of our Her Strength Personal Trainers as the poster boy for staying strong, fit & healthy in mid-life.  Did you spot him?
I've summarised the article below – it contains everything we preach & teach day in, day out to all of our clients! We NEED strength training as we get older.
Why?
☑️  To limit sarcopenia (the process whereby muscle is lost as we age)
☑️ To regulate blood sugar – muscle fibres within the body absorb blood sugar & put it to use during exertion, thus reducing chance of diabetes
☑️ To reduce inflammation & disease – Muscle on the body reduces likelihood of age-related, body-wide inflammation which in turn can cause cancer, diabetes & cardiovascular disease – this is because muscle tissue produces proteins called 'myokines' which dampen inflammation
☑️ To fend off cognitive impairment – Higher levels of strength are associated with less degradation of the brain's white matter which helps the brain to operate smoothly – if this degrades it causes dementia symptoms such as memory loss & depression
This list is certainly not exhaustive, there are many, many other reasons why we need strength training – but these are the main points within the Times article.
Okay, so now we know why we need strength training, but how do we start and what do we need to be doing?  How do we maintain and, or, build muscle?
▶️ Exercise through strength / resistance training – this can be weight training, but as a beginner you can start with body weight only exercises you can do at home such as squats, lunges, press ups, tricep dips, the plank etc.
▶️ You can use lighter weights or heavier weights or resistance bands but the key is that you have to train the muscles to FATIGUE for it to be effective – this is where you cannot do any more reps of the exercise without really compromising your technique.  This is the point at which you will have provided sufficient stimulus to the muscles for them to be broken down.  The body will then repair the muscles and rebuild them to be bigger, denser, stronger – so that they would cope better with the same stress or load next time.  This process should then be repeated time and time again.  Optimum nutrition, hydration and rest of course help this process.
▶️ You can do shorter workouts or longer workouts providing the above point is met – n.b. Shorter workouts may mean better long term adherence to your programme, which is the ultimate goal.
▶️ You have to progress your exercises – add extra load every so often and continue to do so over time – this is what we call progressive overload – this can be upping the weight or adding more reps or sets to create a greater total volume lifted across the whole workout.
▶️ Do ensure you switch up the exercises you are doing within the strength training movements. Eg. use a variety of squats, step ups, lunges, deadlifts & hinge movements to train legs to provide what we call 'muscle confusion' which produces further stimulus to the muscles to respond and adapt by growing stronger (Switching it up doesn't mean – you should do running, then Zumba, then Pilates, then cycling, then a body combat class – unless you do these in addition to strength training, for you own enjoyment)
▶️ Consistency is the ultimate key.  Keep Strength training. Forever!
For help with a strength training programme, take a look at our online classes and courses where we have loads of great, varied strength training workouts.  Or if you need some more help with getting started or your motivation and you're seeking a Personal Trainer, then we offer Personal Training near Guildford in Surrey or if you're not local then we offer online PT over video link.