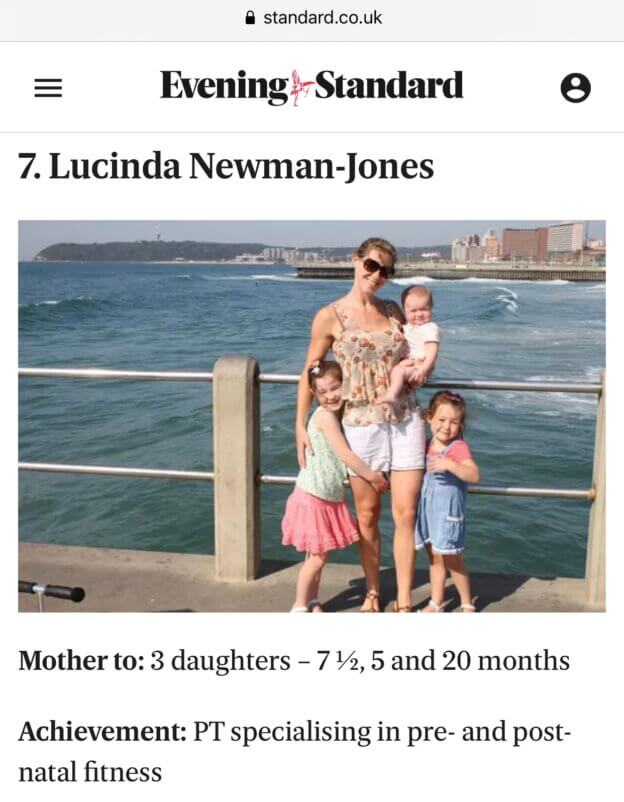 FEATURED IN THE EVENING STANDARD
We are thrilled that our founder Lucinda Newman-Jones was included in this list of top women in the fitness industry by The Evening Standard, recognised for her achievements in pre and post natal fitness.
As a specialist women's fitness trainer, Lucinda devotes her time to helping women get fitter and stronger through her online fitness programmes and on-demand workouts as well as working in person with women and mothers.
Having had 3 children, Lucinda knows how difficult it can be to prioritise yourself when there are so many other (little) people who depend on you and come first.  Lucinda works with her online and in person clients to empower and motivate them into using fitness as a tool for what she calls "active self-care" – that we must take care of ourselves in order to be best equipped to take care of our families.
The article also alludes to Lucinda's own experience of pregnancy weight gain (which of course is a normal and necessary part of pregnancy) and subsequently her use of her knowledge and experience as a certified pre and post natal trainer to steadily return to fitness after her pregnancies – bringing with it the by-product of physique and weight changes.
Lucinda works with many women during this wonderful yet delicate stage of their lives helping them to navigate a safe and effective path back to strength and fitness post baby.
Through her offerings at Her Strength, Lucinda continues to coach, train, encourage and inspire hundreds of women into building strength, gaining fitness, master the art of strength training, increase their metabolism and energy levels to help fellow women and mothers to thrive.
Please do reach out by sending an email or a direct message over instagram if you'd like to discuss the ways in which Lucinda can help you get back into shape, or return to fitness – whether this is in the Guildford area with some Personal Training or whether this is via one of her online fitness programmes.